Palantir Technologies Inc. (NYSE:PLTR) is a big data analytics company that has been a recent beneficiary of the artificial intelligence, or AI, wave. From the start of May, the company's share price has more than doubled, making it one of the largest beneficiaries as its market cap has soared past $30 billion. As we'll see throughout this article, Palantir is still undervalued with an ability to continue performing.
Palantir 1Q 23 Highlights
Palantir had a strong quarter, with the second consecutive quarter of GAAP net income profitability.

The company's adjusted operating margin of 24% remains incredibly strong, and the company's free cash flow ("FCF" has a 36% margin. With 18% year-over-year revenue growth (23% in the U.S. and 26% commercially), the company has a strong path to continue both revenue and FCF growth. That conversion pipeline is huge for future cash flow.
The company managed to grow U.S. commercial revenue 39% QoQ with its customer count growing 50% YoY. The company's strong focus on enterprise customers positions it incredibly well as these enterprises look to take advantage of AI. We expect the company to continue new customer acquisition and contract sizes from existing customers.
Palantir Positioning
Palantir is incredibly well positioned to bring its AI platform to the corporate masses.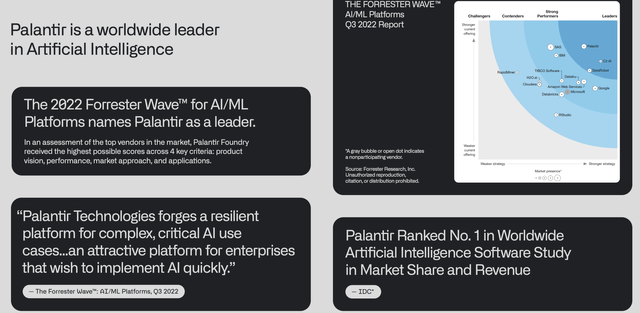 The strength of the company's portfolio is evident through, for example, the recent announcement that it bagged a $463 million contract with U.S. Special Forces for AI. Palantir is one of the strongest companies in the AI space, especially when looking at directly selling AI to customers. Its leadership will enable it to dominate as new companies move to the space.
The company's positioning is part of the reason why its share price has outperformed over the last month, but we don't see that as the end of things.
Palantir Financial Results
The company's financial results have been incredibly strong.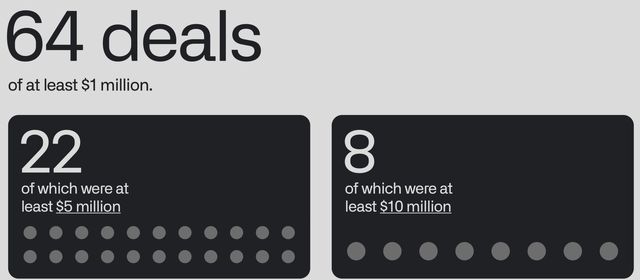 The company signed 64 deals during the last quarter, and it's shown an increased ability to get large scale deals. The company has closed almost $400 million in new contracts, a 60% improvement YoY, foretelling strong potential revenue growth for the company versus prior growth rates. We see that as only having accelerated into the most recent quarter.
Palantir's scale is also evident through deal sizes, with 22 deals at least $5 million and 8 at least $10 million. The company has a proven ability as well to ramp up the size of prior deals as well as get new deals, so the large starting size here is exciting to see.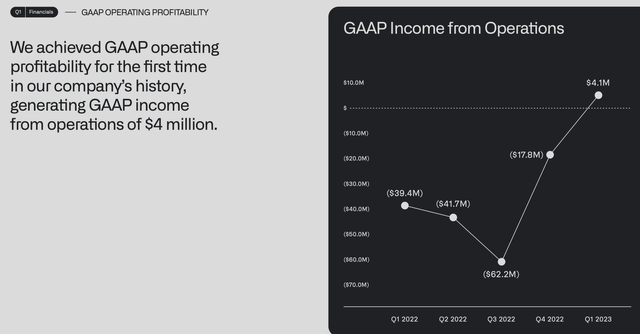 The company also managed to achieve GAAP profitability for the first time in its history, although at a low level. It's a strong turnaround from 2022 when the company had -$160 million in GAAP income for the year. We expect the company to have positive GAAP income for the year, which combined with a strong cash position will enable shareholder returns.
Palantir Revenue / Margin Growth
The company is focused on growing both revenues and margins.

For Q2, 2023, Palantir expects $530 million in revenue, roughly the same as Q1. However, the company's FY 2023 target is $2.21 billion, meaning a strong growth to revenue in the second half of the year. The company's adjusted income from operations target is $530 million, which we expect to be primarily FCF.
That represents a ~2% FCF yield for the company and shows its financial strength. The company had 81% margins in the most recent quarter, a slight YoY increase from 80%. Those incredibly high adjusted gross margins will enable continued FCF strength and given the company's high fixed costs we expect revenue growth to lead to more increase.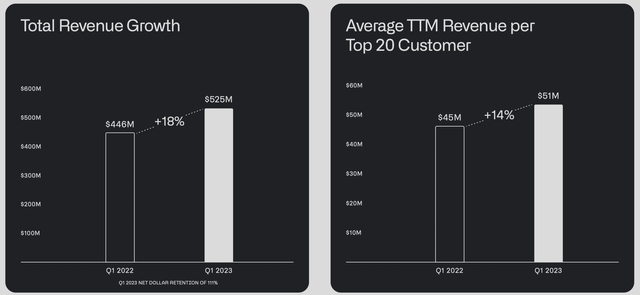 Palantir's strength is shown less through its revenue growth and more so in the graph for the right. For the first time, the company's top 20 customers have crossed $1 billion in annual revenue. For these companies, Palantir has become an integral part in how they function.
The company's ability to acquire new customers and grow relationships with existing customers is a double whammy that will lead to long-term sustainable growth.
Thesis Risk
The largest risk to our thesis is Palantir's ability to continue growing cash flow to justify its valuation. On paper, it looks great, but the company has $750 million in annualized cash flow, which is a FCF yield of 2.5%. That's an atrocious long-term valuation and shows that the company has growth ahead to justify its current valuation.
Not achieving that growth would make the company a poor investment.
Conclusion
Subtracting the cash, Palantir has a roughly $27 billion valuation, a substantial increase over the $12 billion non-cash valuation a month ago. Despite that, we still see the company as one of the unique opportunities in the AI market. Palantir is not only rapidly and sustainably growing revenue from existing customers, but it is also picking up numerous additional customers.
At a 2% FCF yield with a double-digit growth rate, Palantir Technologies Inc. has the ability to continue growing. It has no debt and a strong net cash position which means profits can be rapidly directed to shareholders. Putting all of this together, Palantir is a valuable long-term investment that can drive substantial returns.
---
Disclaimer: The information provided in this article is for informational purposes only and should not be considered as financial advice. The content presented here is based on publicly available data and analysis, and while we strive for accuracy, we cannot guarantee the completeness or reliability of the information. Investing in stocks involves risks, including the potential loss of principal. It is essential to conduct thorough research and consult with a qualified financial advisor before making any investment decisions. The author and the publication assume no responsibility for any investment decisions made based on the information provided in this article.